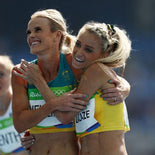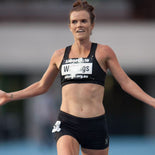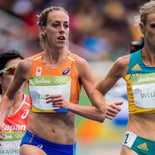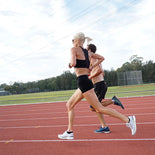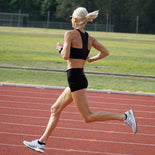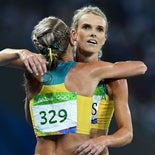 OLYMPIAN
Eloise is two-time Olympian and a nine-time National champion over the 5,000m and 10,000m track events.
Eloise was a finalist at the World Championships in 2015 finishing 9th in the 5000m. Eloise was the first female to be selected on the Rio Olympic team for 2016 where she ran the fastest time ever by an Australian woman at the Olympics over 10,000m Running 31 minutes and 14 seconds and placing 10th in the final. She also made the final of the 5,000m at the Rio Olympic Games and placed 9th in the final. Eloise has competed for Australia at 4 Commonwealth Games with her best result being 4th in the 5,000m in a time of 15.00.
Eloise is mother to 6 year old India and 12 week old Sonny and is also the Founding Director of the Love Mercy Foundation.
At what age did you start running?
I started running when I was 5 years old.
When did your dream to run in the Olympics begin?
My Olympic dream started at age 10. I was inspired by the women's distance running during the Barcelona Olympics.
How do you motivate yourself every day?
Our work in Uganda motivates me. Running has a purpose through this. I also just love the feeling of being fit, healthy and ready to compete. I guess seeing how good I can be and what my limits are is motivating to me.
What is your proudest achievement?
Persevering through injury and finally lining up at the London Olympics... and then again in Rio.
What obstacles have you had to overcome?
Missing my first three Olympics due to injury was the hardest obstacle to overcome.
What does a typical training session involve?
A typical workout for me is 8x1km with 60 seconds rest at 3.20 per km pace. Or on my XT-44 Cross Trainer I do a workout that goes 6x3min, 6x2 min, 6x 1 min all with 30 second rest on a resistance of 15.
How does your training and diet change during your preparations for a race
My diet stays virtually the same, I always try to eat really well. Fueling with unprocessed foods as much as possible and fueling with foods that are going to give me the best sustained energy. I also supplement my diet with energy booster Ubiquinol. It's the active form of co-enzyme q10, a powerful antioxidant, vital for healthy cells and responsible for the energy production of cells in our body. It helps my recovery and fights feelings of fatigue. Magnesium is also a great option for inflammation and achy muscles when you start getting back into exercise. Another favourite supplement is Revvies energy strips for a fast, convenient and effective energy hit before hard workouts and races. I always trial new caffeine or nutritional products in training before using them in a race
Career Highlights
Current
Lifespan Fitness Returning to complete fitness with the help of Lifespan Fitness!
2019
Motherhood Gave birth to baby boy Sonny
2018
Gold Coast Commonwealth Games 5,000m and 10,000m events
2016
Olympics Finalist 9th Place 5,000m event
31st Olympics Ran the fastest time ever by an Australian woman over 10,000m
2015
World Championships Finalist 5,000m event
2014
Glasgow Commonwealth Games 5th Place 5,000m run
2013
Start of Motherhood Gave birth to a baby girl- India
2012
London Olympics Competed 5,000m and 10,000m events
2010
Delhi Commonwealth Games 6th Place 10,000m run
2006
All time Aust Ran the 3rd fastest 5,000m - Time: 14.54
Melbourne Commonwealth Games 4th Place 5,000m run
Eloise Welling'S FAVOURITE PICKS