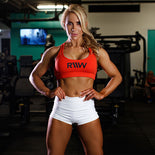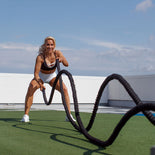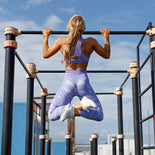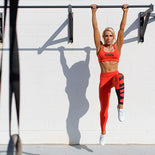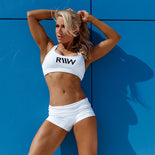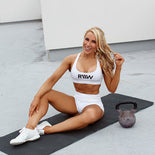 Pro Bikini athlete
Anna is a WBFF Pro Bikini athlete, published fitness model, TV presenter and certified nutrition and strength coach, who specialises in body transformations and empowering women to love their bodies. The former television news reporter grew up in Sydney where she competed at the highest level as a rhythmic gymnast and dancer. After suffering for seven years with an eating disorder due to the pressure of competition, Anna became motivated to take control of her health. She enlisted the help of a sports dietician and trainer, to begin her journey to a healthy lifestyle and new career. Today, as a full-time fitness professional, she is passionate about educating and inspiring women to achieve a healthy relationship with food, exercise and body image.
Anna is a highly awarded athlete in the field of fitness, figure and bikini competitions, holds several Australian titles, is a world runner-up and has multiple media features to her name. Anna loves the challenge of competing, and is inspired by the incredible transformations people can achieve when they dedicate themselves to accomplishing a goal.
What drew you to bodybuilding?
I was a competitive dancer and gymnast growing up, but I actually didn't step foot in a commercial gym until my early twenties. At the time, I had recently retired from rhythmics and dance and was recovering from a severe eating disorder.
I had started to notice a number of ladies at my gym were prepping for fitness (body sculpting) competitions and I was in complete awe of their transformations. What floored me the most though was the way in which they achieved it; they were always eating... oats, salmon, avocado, steak, rice, potatoes – foods that had been on my personal 'banned' list for almost a decade. I had to learn their secrets.
They referred me to their coach, who was instrumental in helping me gain my life back. He introduced me to weight training and healthful, regular eating. I quickly learned that I didn't have to ban food groups, starve myself, or do hours upon hours of cardio to achieve the body I wanted. I was lifting heavy weights, eating six nutritious meals a day and even enjoying the occasional dessert.
It didn't take long for the competitive athlete to come out in me again, and I set my next goal to step on stage. I had been weight training for two years and established a consistent routine preparing my meals and eating a varied, healthy diet. Now I wanted to see what my mind and body were truly capable of. Seven years on, I've competed in more than 30 shows, holding several Australian titles and world rankings to my name.
Looking back at your career, what is your proudest moment?
Landing my first magazine cover in 2014 was an extremely proud, and also surreal moment. Oxygen Magazine had been my bible throughout the early years of my fitness journey, so to suddenly find myself in a position where I could help and inspire others through my own story of struggle was a big turning point for me in my career.
Who is your idol?
There are numerous people within the health and wellness industry I have looked up to over the years, and each for different reasons. Jamie Eason was one of the first fitness models I looked up to that got me into this crazy world of fitness! As I started competing, I drew inspiration from the physiques of IFBB Bikini Pros Justine Munroe and Nathalia Mello. As a coach, I now look up to educators like Alan Aragon, John Meadows, Dan Garner, Ben Pakulski, Victoria Felkar, Eric Helmes, Andrew Lock and my coach, Cliff Wilson.
What is the quote you live by?
"Make it happen."
What is your next goal?
I took a year off competing in 2018 to focus on getting stronger and building some more size in my legs/glutes. I also used this time to increase my calories and spend some time away from dieting to support overall health and hormones. I do plan to compete again, but it will be when I feel my body is ready and I'm satisfied with the improvements I've made. Watch this spac...
What does a typical training session involve?
My training will vary depending on the phase I am in, but you will always find me in the weights room. My programs will change up every 4 to 6 weeks. Cardio sessions will vary depending on my body composition goals at the time. I try to minimize the amount of cardio I do during the offseason, but when I'm preparing for a show MISS (medium intensity steady state) is my way to go. I'll vary things up, sometimes using machines, and other times I'll go for a run. As a Bikini athlete, I train legs and glutes A LOT – typically three times per week with one or two upper body sessions. A typical week is a 4 to 5 day split of Legs (Quads focused), Back & Delts, Legs (Glutes & Hamstrings focused), Delts & Arms, Legs (more Glutes & Hamstrings). My favourite exercises are Low Bar Squats, Hip Thrusts and Sumo Deadlifts.
Career Highlights
Current
Owner I AM Fitness (est. 2013)
2018
WBFF LA Pro/AM, Pro Bikini 3rd Place
WBFF World Championships, Pro Bikini 10th Place
WBFF Australia Pro/AM, Pro Bikini 5th Place
2017
IFBB Arnold Classic Australia, Bikini 3rd Place
WBFF Sydney Championships, Bikini 2nd Place
Awarded WBFF Pro Bikini Status
2016
IFBB Melbourne Championships, Bikini 3rd Place
IFBB Arnold Classic Australia, Bikini 5th Place
IFBB Victoria State Championships, Bikini 2nd Place
IFBB Australian National Championships, Bikini 5th Place
2015
IFBB Arnold Classic Australia, Bikini 6th Place
IFBB Victoria State Championships, Bikini 1st Place
IFBB Amateur Olympia Australia, Bikini 2nd Place
2014
ANB Asia Pacific Championships, Fitness Model 3rd Place
IFBB All Female Classic, Bikini 1st Place
2013
IFBANB Asia Pacific Championships, Fitness Model 4th Place
ANB Asia Pacific Championships, Figure 2nd Place
2013 Musclemania World Championships in Las Vegas Selected to represent Australia
ANB Australian National Championships, Fitness Model 1st Place
Musclemania Australian Championships, Figure 1st Place
Awarded Musclemania Pro Figure status
Musclemania World Championships, Pro Figure 2nd Place
2012
ANB North Queensland Championships, Fitness Model 1st Place
ANB Queensland State Championships, Fitness Model 2nd Place
ANB Australian National Championships, Fitness Model 3rd Place
ANB Australian National Championships, Figure 2nd Place
Anna McManamey'S FAVOURITE PICKS
Pre-order - Leaves warehouse in 6 Weeks