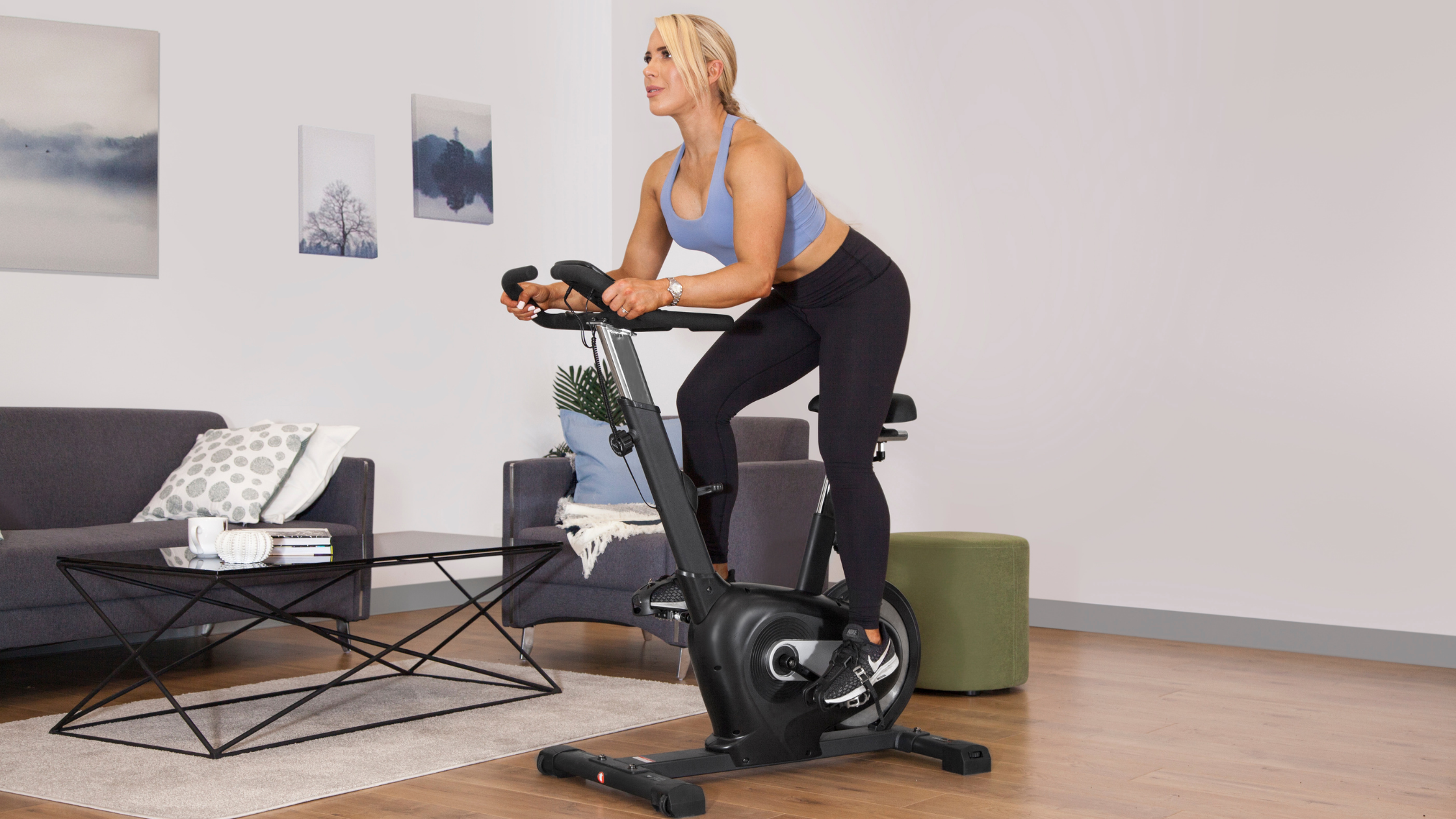 Get up out of the saddle and get your blood pumping with a spin bike workout. Spin bikes are an amazing way to raise your heart rate and burn calories. It's an active workout that keeps your mind engaged as much as your body so let's take a look here at everything you need to know about the spin bike before you introduce it to your home gym routine.
The Flywheel 
The purpose of the spin bike is to simulate cycling on the road as best as possible. This is achieved with the flywheel, a metal wheel at the front or rear of the bike that spins with the force you exert when you pedal. Heavier flywheels with precise engineering like the SP-870's 25kg TrueSpin™ Flywheel offer the smoothest possible ride. Belt drive systems like the one found on the SP-340 also assist in creating incredibly smooth pedalling by reducing the amount of friction and moving parts between the bike's crank shaft and flywheel.

Resistance
The best spin bike routines are all about variety. Adjusting the resistance on your bike mid ride is what lets you simulate going into a hill climb or sprinting across the stretch. The resistance can usually be adjusted with a knob or lever around the front of the bike that typically has near limitless potential for resistance. The standard design for spin bike resistance, seen in bikes like the SP-550, is a pad that rubs against the flywheel to slow its motion and force the rider to pedal harder. Alternatively, bikes like the SM-700 use a magnetic resistance system that creates resistance by slowing the flywheel magnetically and offers a quieter ride due to the reduction in friction and moving parts.

Display
The bike's display, typically an LCD screen, shows you important stats of your ride like your speed, distance, and time. More advanced screens and bikes can also estimate your calories burnt and display cadence and pulse which can be incredibly valuable in keeping you on track while you follow a spin class or workout. These classes and workouts might require you, for instance, to pedal at a pace of 70RPM for 1 minute, or keep your pulse around 120BPM for 2 minutes. More tech savvy spin bikes like the SP-460 even allow you to pair your bike with a smartphone to track your workout with health and fitness apps.

Start Your Workout
Now that you know the basics, you're ready to hop in the saddle. Make sure you adjust your saddle and handlebars so that you're comfortable throughout your workout. Longer workouts that keep your heart racing at an active pulse are the best for weight loss and overall cardiovascular health. Check out our 30 minute spin bike workout for beginners or find an online class or YouTube instructional to direct you through your first couple of rides. We recommend 30 minute workouts for beginners, but if you can stay on for longer then go for it. Over the course of this workout you want to stay constantly active and periodically raise your pulse and engage your legs with sprints and hill climbs.

Just Keep Pedalling
Spin bikes are a great piece of cardio equipment to improve your overall fitness and lose weight at home. They're affordable, don't take up too much space, and offer an incredible workout that's only as intense as you make it. Once you've figured out all the ins and outs of your spin bike, don't forget to make the workout your own by getting comfortable in the environment and adding some music that motivates you to get up that hill.