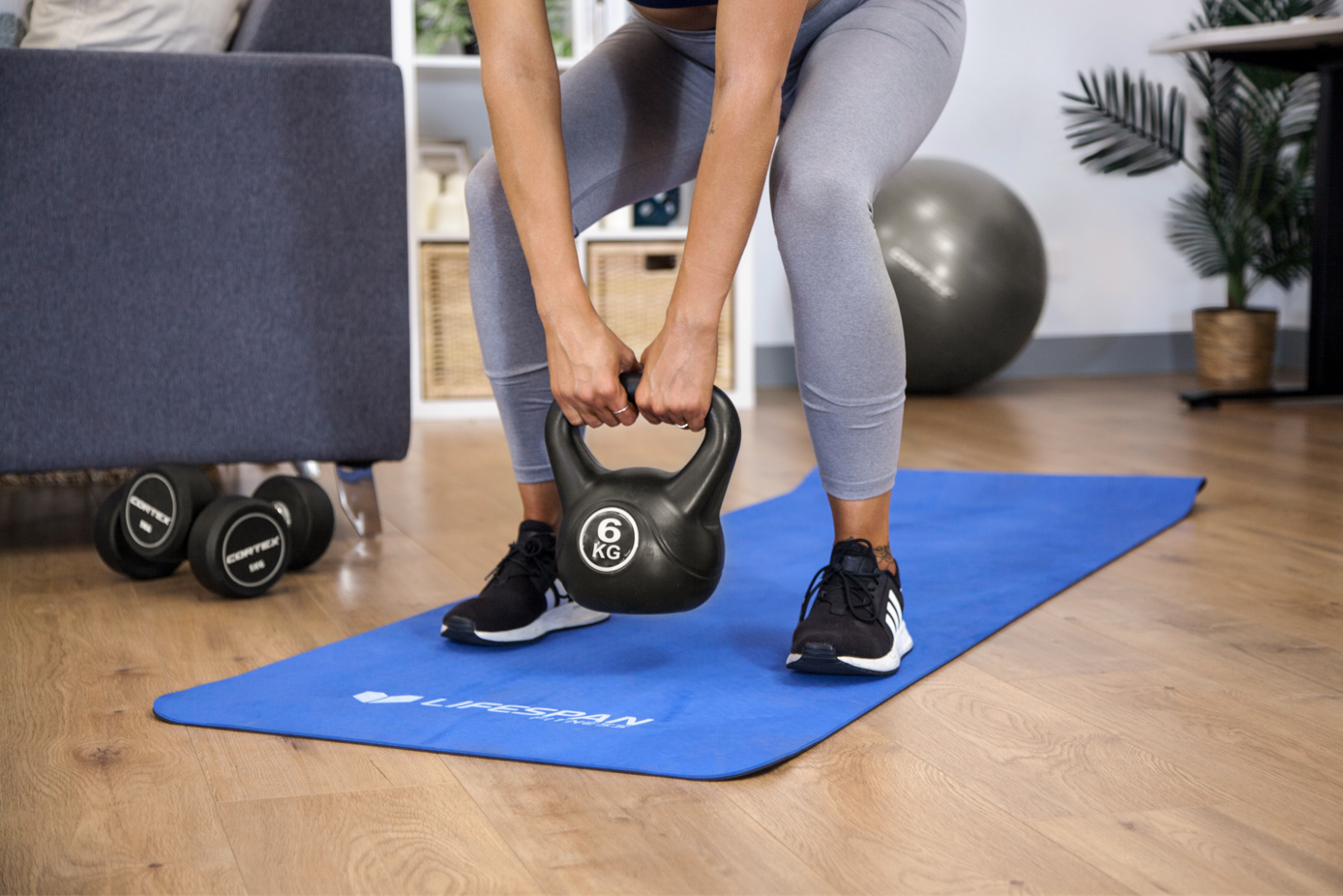 Kettlebells... Cast Iron, PU, Steel. What is the difference? 
Every gym you go to is bound to offer a selection of kettlebells varying in weight, material, shape and style. Kettlebells are also particularly popular for home use; most homes can't accommodate a large gym station however kettlebells are a space friendly option for strength trainers. Kettlebells can be used for a range of upper and lower body exercises such as lunges, squats, push presses, kettlebell swings and more.   
Many people love kettlebells for their versatility, they can be integrated into many cardio or strength workouts and used to target just about every muscle group. Others, enjoy using kettlebells for the various physical benefits they offer like improving strength, endurance, flexibility and balance. 
With lots of kettlebells on the market it can be difficult to understand the differences and benefits from one kettlebell to the next. At Lifespan Fitness we offer Standard EnduraShell Kettlebells, Cast Iron Kettlebells, Steel Kettlebells, PU Kettlebells and Adjustable Kettlebells to meet the needs of every kettlebell user.  
Standard EnduraShell Kettlebells 
If you're looking to introduce kettlebells into your training routine or you're after a cost friendly kettlebell to use for simple lifts, then the standard kettlebell may be perfect for you. Standard kettlebells are cement filled and encased with smooth plastic for a comfortable grip. The plastic encasing works to minimise damage to flooring and walls, making it suitable for home or studio use. Standard kettlebells typically have a large domed handle and the overall size of the kettlebell increases with weight. The larger sizes can be more awkward to hold and may restrict some exercises in comparison to steel kettlebells.
Cast Iron/ Vinyl Kettlebells
Cast iron kettlebells are perfect for home use, the vinyl surface protects both the kettlebell and your living space from damage as well as minimise loud noise from the kettlebell hitting the floor. The vinyl dipped kettlebells are colour coded for easier weight identification, so you can easily switch between weights. Made with strong cast iron, vinyl kettlebells are basically indestructible making them more durable than standard kettlebells. Vinyl kettlebells are ergonomically designed with a smooth, wide and easy to grip handle providing a secure hold during high repetition workouts. One downside to cast iron kettlebells is that the vinyl can peel and show signs of wear if they're not taken care of properly. This can be particularly noticeable in a gym environment where everyone shares the equipment, rather than a home environment.  
Steel Kettlebells
Many serious lifters will gravitate towards steel kettlebells for their indestructible steel and commercial grade design. The smooth handle and flat base allow the kettlebell to be picked up and moved around with ease. The steel kettlebells powdercoat finish gives this kettlebell a premium look and feel. Steel kettlebells maintain their physical size and shape regardless of the weight as they are frequently used in competition lifting and one-handed lifts, the consistency in the dimensions allow the lifter to maintain the same form and technique no matter the weight. Since steel kettlebells are built to competition standards, they tend to be more expensive than their cast iron counter option.
PU Kettlebells
Also designed to commercial standards, the polyurethane kettlebell, or PU kettlebell, has a heavy-duty polyurethane outer shell giving it a softer texture in comparison to steel kettlebells. The PU shell is scratch resistant and protects your flooring and walls from damage. The smooth stainless-steel handle offers a secure grip so your kettlebell stays firmly in your hand as you preform swings and lifts. Similar to steel kettlebells, PU kettlebells maintain their physical size despite their weight, making it easier for weight lifters to maintain form as they move up weight grades.  
Adjustable Kettlebells
Adjustable kettlebells are an innovative and compact option that eliminate the need to purchase a set of kettlebells or a heavier weight each time you go up a weight grade. The ability to take-off weight or add on weight bags offers more versatility within your workouts, especially if you need different weight for different exercises. The even weight distribution and rope handle is ergonomically designed to offer the same results as your standard kettlebell. Adjustable kettlebells are perfect for progression and variety; however, the shape tends to feel more bulky or awkward for some. Adjustable kettlebell weights typically don't offer a high max weight (approximately 10kg max), making them more suitable for light workouts or for users that don't need heavier weights. 
Conclusion
What kettlebell will work best for you will depend on your desired workout and features you prioritise when shopping for a kettlebell. If you are planning on doing high-repetition sets in your workout then a commercial grade competition kettlebell will work best to give you the durability you need. Otherwise, if you are looking to take on some light cardio at home or introduce a kettlebell into your weight training then a standard or cast-iron kettlebell will deliver good results.  
Shop our full range of kettlebells here