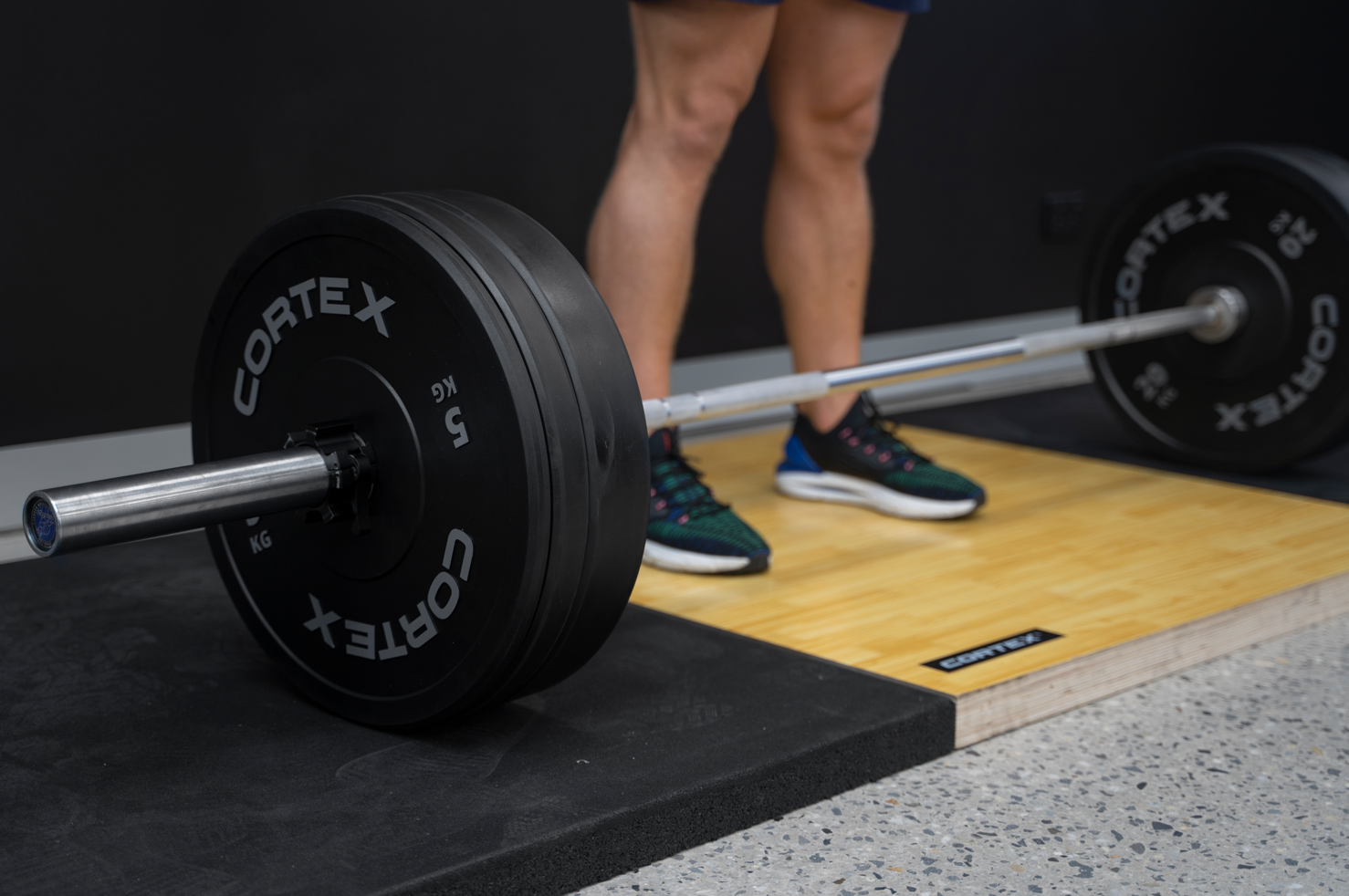 So, you're ready to step up your weightlifting game with a pair of Olympic weight plates? Olympic plates offer many advantages over standard weight plates, such as greater durability, higher quality materials and the ability to perform more advanced powerlifting. But with these extra features comes a lot more variation. While this is great for weightlifters as it allows to greater choice and more personalisation of equipment, it can be daunting to decide what plate is going to suit your needs the most. Here is a rundown of everything you need to know before buying yourself a pair of Olympic weight plates so you can make your decision with confidence.  
Standard vs Olympic
When it comes to weight plates there are two main categories: Olympic and standard. The most important practical difference is sizing. Standard weight plates and Olympic weight plates will have a hole at the centre through which the barbell is fitted. Standard weight plates will have a centre hole designed to fit a 25mm diameter standard bar, meaning that only bars with the same size will be able to fit your plates. Olympic bars, on the other hand, have a standardised 50mm diameter, meaning they can't be used with standard plates, and vice versa for an Olympic weight plate on a standard bar. While it is technically possible to fit an Olympic weight plate onto a standard bar, as the Olympic hole will be bigger than the standard bar's diameter, it's not recommended as the weights will not be properly secured, making them unsafe to use.  
Tri-Grip
These plates offer a smooth, user-friendly experience with three gripped handle positions. The handles make them a great option if you plan to use them by themselves, as well as easy handling when mounting them either on a bar or gym station. They're made of heavy-duty rubber to protect your floors and range from 1.25kg, 2.5kg up to 20kg.  
Black Series Bumper
These plates are built with high density rubber to create extra protection for your floors, walls and workout area. The Black Series bumper plates are perfect for compound lifts such as deadlifts, clean and jerk, snack and jerk variations. These start at 5kg up to 25kg, and have a regulation diameter of 450mm, along with a steel ring core for easy sliding on and barbells.  
Competition Bumper
Competition bumper plates are a type of Olympic plate use in competition powerlifting, and as such are required to be commercial grade with standardised measurements. These measurements are set by the International Weightlifting Federation (IWF) to meet the requirements of competitive events. This is also the reason why Olympic bumper plates will come in specific colours, as these are also mandated by the IWF, and are an internationally recognised colour coding system. Commercially graded Olympic bumper weights are required to withstand a greater amount of stress, and handle being dropped. These bumper plates encase a steel core in a rubber coating to protect both the weight and the floor. They are made with a high-density PolyUrethane coating, designed to reduce bounce back and endure high intensity usage. If you plan on using your plates for deadlifts, cleans, jerks or anything where you may be dropping the weights at any point, you'll want to grab a pair of Olympic bumper plates. 
Shape and Thickness
Thickness is an important consideration in choosing the right weight plate. Competition plates will be noticeably thinner to allow more to be loaded onto a barbell or gym station. Most plates will have a thicker edge called a 'lip' that allows for an easier grip. While both are suitable for individual use, some users prefer a plate without the Tri-Grip design as it forces them to train their grip strength. As always, find opportunities to try out all options and make a decision that works best for you. 
While the shape of the plate won't matter too much if you're just planning on loading them onto a bar, if you're using you're plates by themselves, you may want to consider a Tri-Grip plate. These are designed with three handles built into the side, making for easier use when used independently, and is generally preferrable for individual use. It will also make it easier to load on and off bars. 
Are Weight Plates Accurate?
The majority of the time you can be rest assured that the weight plates you buy will be the correct weight that's advertised or very close. However, it's not unusual to find weights with a small deviation from the advertised number. CORTEX's Olympic plates will have a low variance in weight, and the competition plates will have an even lower variance. These are usually matter of a few digit grams, so it won't be something that most users will need to be concerned about. However, for advanced users and serious, competitive weightlifters, the competition bumper plates offer the extra guarantee of a more precise weight accurate to the advertised size.  
Olympic Barbells
Along with the Olympic plates themselves, the accompanying barbell is designed to meet competition standards, designed to carry a heavier load and support rotational bar movements. Most competition barbells will be made with carbon steel, with the exception of the SPARTAN205 and ZEUS100, which are made with highly durable Chrome Molybdenum Steel and Sring-Tempered Stainless Steel, respectively. There are also different coatings, including chrome, black oxide and hard chrome, which offer different types of protection, grip-strength and feel. Manufacturers will also usually produce separate size bars for male and female lifters, proportional to average shoulder width between men and women.  
You can find a more comprehensive guide to buying Olympic barbells here.  
Which Olympic plate is right for you?
If that was a lot of info for you, here's a quick breakdown of the different types of Olympic plates and what will suit your situation best. If you're planning to your plates more as free weights or independent of a bar, the Tri-Grip plates will be your best option. Having said this, they are also handy for use in plate loaded gym stations, as they make for easier handling when removing or attaching plates to the machine. These will also suit those with a minimal home fitness setup or less space, as they can be moved around easier and allow for more convenient storage. Black series bumper plates are a great option for those wanting to accelerate their weightlifting, while competition bumper plates will offer the absolute highest quality experience for serious lifters.  
Conclusion
Buying yourself some Olympic weight plates will ensure you're using the best equipment and getting the most out of your weight training. They are one of the most effective tools at your disposal for accelerating your strength training, muscle growth and improved stamina. It's important to find something that personalised to your needs, and there are definitely a few options to consider.  
Speak to our friendly team members today and we'll be able to help you on your fitness journey.