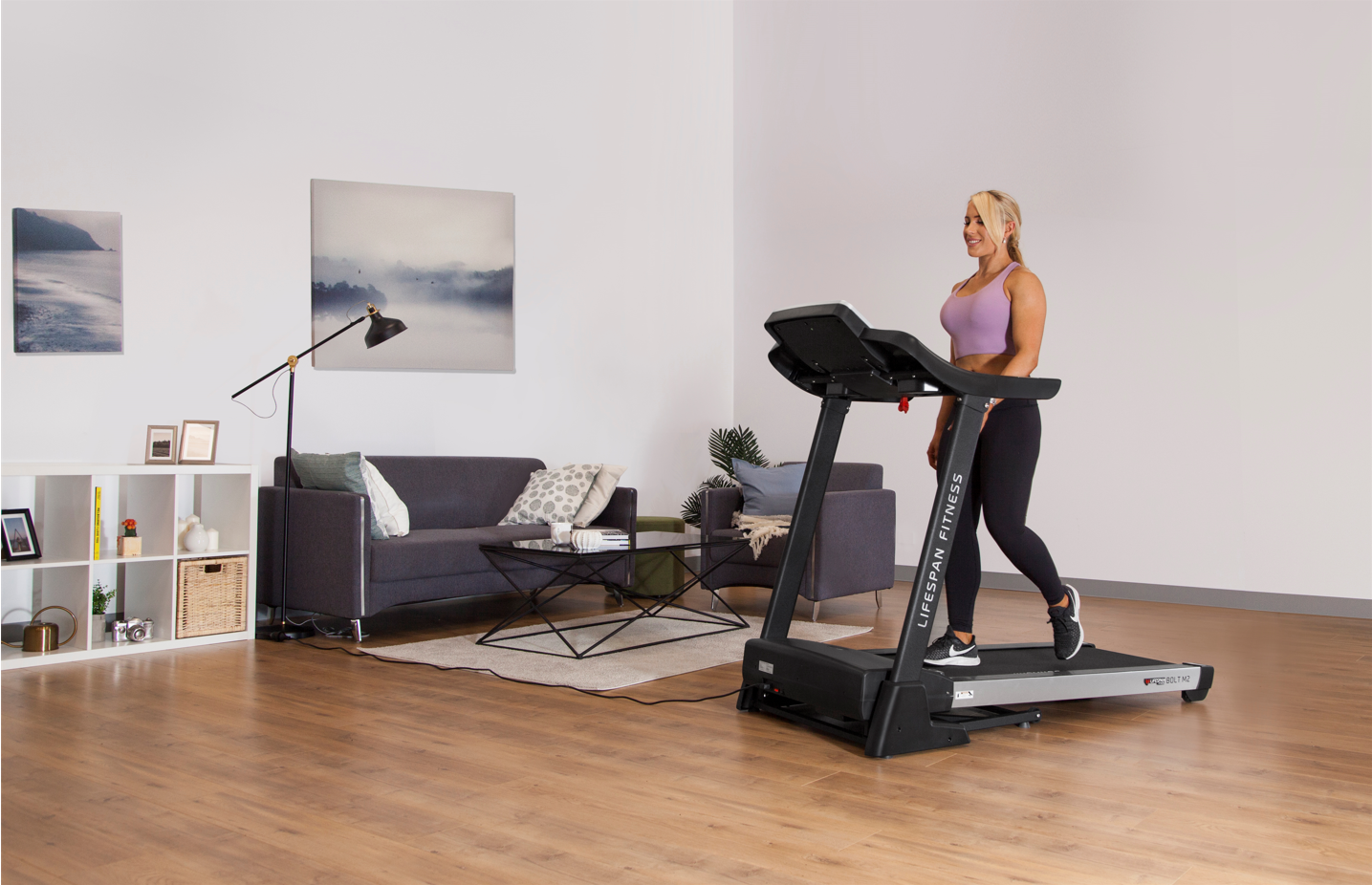 Switching up your treadmill's incline is a great way to make the most out of your home treadmill and reap some great fitness benefits. Adjusting your treadmill's incline involves raising or lowing the platform in order to match the gradient of walking uphill. Adjusting your treadmill's incline is great for imitating outdoor elements you would commonly experience during a walk and run such as hills and uneven terrain. Most treadmills aren't perfectly flat and start with a natural incline. Incline levels vary across treadmill models, advanced treadmills can incline up to 20 levels (22%). Some treadmills have decline settings for stimulating the feeling of walking downhill. However, walking pads and curved treadmills aren't typically fitted with incline settings. If you're a beginner, get accustomed to the level you're on before increasing the slope.  
Find out more about why treadmills have incline here 
How to Adjust the Incline on Your Treadmill?
Treadmills come with two different incline options, manual or automatic. You will find automatic incline standard to most treadmill models, with a select couple needing the incline to be adjusted manually. Increasing manual incline requires more time and effort as users need to stop the machine and step off to adjust the lever. A treadmill with manual incline is a good option for shorter workouts from users who typically like to walk or run on a flat surface. Automatic incline on the other hand is more user friendly with the ability to change your incline mid workout through the push of a button. This is a better option for users wanting to complete interval training and longer workouts. Incline buttons are typically found on the console or on the handlebars, up and down button are fitted on the display screen allowing you to make single increments. Otherwise, pre-set levels allow you to quickly set your incline level. Most treadmills also offer pre-set programs, these programs allow you to easily complete interval workouts by automatically adjusting your speed and incline.  
Benefits of Incline
Increased difficulty & intensity
Using the incline feature on your treadmill is a great way to increase the intensity of your workout without necessarily needing to increase your speed or train for longer. This is a great way for users to increase their calories burned count and reach weight loss goals. Not holding onto the handrails will also add an extra layer of difficulty as you are solely relying on your leg muscles to push yourself forward.  
Boosts heart rate 
Raising your heart rate can be done by increasing your treadmill's incline without having to increase your speed, making it a great low impact workout. Walking or running on the treadmill is a great way to get your blood pumping, effectively boosting your heart rate as well. Increasing the rate your heart pumps at leads to great health benefits including better blood circulation and a stronger heart. 
Engages different muscles 
Walking and running on a flat surface only targets so many muscles. Integrating incline into your routine will help you access a wider range of muscles that would typically be excluded from a flat surface workout. When you change from a flat surface to an incline, muscles including your calves, hamstrings and glutes are activated. As the incline increases your muscles are forced to do more work as the body must exert more energy to propel itself forward and against gravity. 
Find out more on the physical effects of treadmill training here 
Variety 
As well as adding an extra layer of difficulty, incline also allows you to add variety to your treadmill routine. Having the option to adjust your incline keeps the workout fresh and encourages you to set new challenges. Adjusting your incline is a great way to boost your interval training, leading to more calories burnt. If running on the treadmill causes too much stress on your joints, walking on an incline is a great alternative that has a lower impact on the joints whilst still offering all the benefits of running.  
Prepares you for the real world 
Going for a run outdoors can be challenging when you've got hills and uneven terrain. Practicing walking on different inclines on a treadmill is a great way to get prepared for the natural elements of outdoor running. This is also a great option for runners training for a marathon or cross-country race.  
Find out more on our blog: Is treadmill speed the same as real speed?
When Should You Not Use Incline?
While there are many benefits to walking on an incline, there are some things to consider if you have pre-existing injuries or limited fitness capabilities. When you switch from a flat surface to incline, additional pressure is placed on your joints which may lead to soreness and even pain if you have recently recovered from an injury. Completing hill climbs can cause you to unknowingly slouch or lean backwards, keeping a straight posture is important especially for those who suffer from lower back pain. Keeping your hands off the handles and gaze forward will help keep a neutral spin. It is always important to know your limits when walking on an incline and avoid pushing yourself if pain occurs.    
Try This Incline Workout
If you are ready to get started with an inclined workout, give this sample routine a go: 
0:00 – 5:00 Warmup: L3 incline – L3 Speed 
5:00 – 10:00: L5 incline – L4 Speed 
10:00 – 15:00: L8 incline – L3 Speed 
15:00 – 20:00: L5 incline – L3 Speed 
2-3 min Cooldown: L2 incline - L3 speed 
This workout is great for those starting off and can also be effective for more experienced users by adjusting the speed and incline.  
Conclusion 
Incline walking is a great way to challenge yourself on the treadmill and add some diversity to your routine. For those looking to achieve the same goals of a HIIT workout without running, incline training is the second best to burning calories and hitting weight loss goals without adding extra impact to your knees and joints. Incline is also a great way to build definition in your lower body and engage muscles that would previously not be involved during a flat level workout. Remember to start slowly and gradually increase your incline as you develop confidence. You'll notice better cardiovascular endurance, stronger legs and increased motivation in no time! 
Check out our best tips for your treadmill workout here