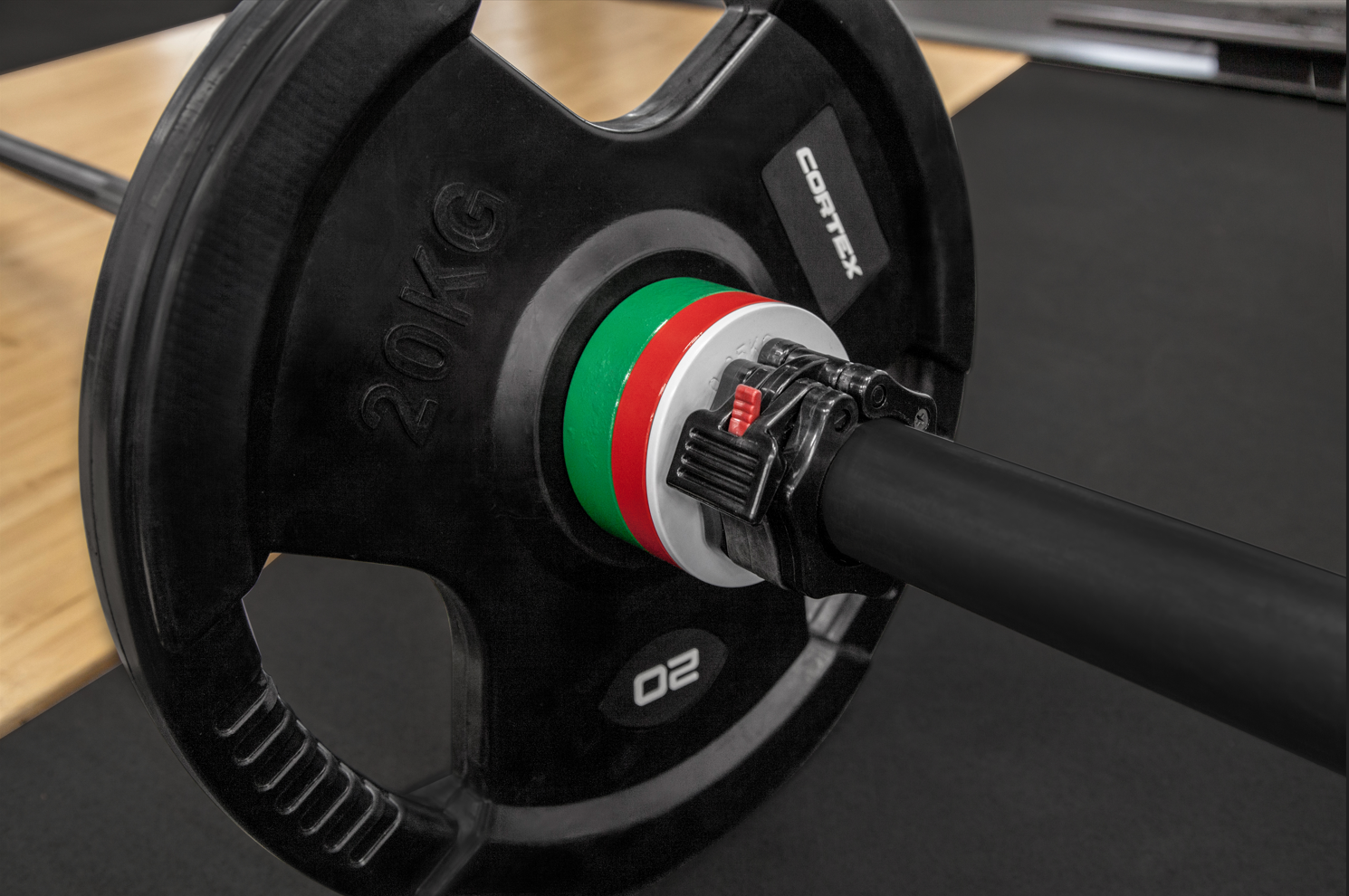 Rust on your weight plates is not just ugly to look at, it can be outright dangerous to use, as the rust is damaging to your skin, and jagged parts can cut your hand while you're carrying them. Rust build-up is unfortunately common with metal weight plates, such as those made with iron or steel. This is one of the advantages of a protective coating, which also protects against any damage to the plates or to the floor. CORTEX standard weight plates are built with heavy-duty cast iron designed to be rust and chip free. Even with this coating, there are a few things you can do to prevent your plates from developing rust in the first place.  
The first thing to remember is to always remove your weight plates from any bars you've been using during your workout. Leaving the plates on the bar can wear down the coating and leave the plates vulnerable to rust. It's helpful to have a dedicated weight storage set to keep your plates secure and protected. Another thing that can wear down the coating is dropping the weights too much. Dropping a barbell should only be done with professional grade Olympic plates, as these are designed to withstand the impact. If you're someone who uses chalk to reduce moisture in your hands and create a better grip, remember that it can also draw moisture towards the bar, causing premature rusting. Always wipe away chalk when done. Clearing off sweat will also go a long way in preventing rust from building up. 
So, all of these things can extend the life of your weight plates and protect against rust, but what if they're already rusted? You may think that once they're covered in rust you may as well toss them aside, but it's actually surprisingly easy to restore old plates and bring them back to their former glory. Here we'll cover how to restore weight plates, and how to remove rust from weight plates.  
Brushing Rust Away
The first step is simply brush off as much of the rust as you can. While some sources recommend the use of steel brushes, this can end up scratching your equipment, as steel is harder than iron. Most brushes you have lying around should be fine for this purpose, but some recommendations are a brass brush, nylon brush, or even some sand paper. Some weight plates are painted, meaning you'll also have to brush away the paint to get to the rust underneath. Afterwards they can always be repainted.  
Soaking the Plates
Use a solution of 50% water and 50% vinegar and soak your weights for anywhere up to three days. The amount of time will depend on just how much rust has built up on your weights. Alternatively, there are products called 'rust converters' or 'rust reformers' which work to convert the rust into a chemical compound that can easily be wiped away. 
Drying the Plates
This is an important step, as any remaining moisture can stay on the weights and rust can develop again. Dry out your plates with a towel or cloth, getting them as dry as possible before moving onto the next step.  
Scrubbing the Plates Again
Once they're dry, grab your brush and give the plates another scrub. Any remaining rust should fall off pretty easily.  
Applying a Protective Seal
While this step is optional, it will protect your weights from developing rust again in the future, and will also leave them with a more finished look and uniform appearance. Products such as RustSeal or Rust-oleum are specially designed for use on metal surfaces to protect against the build-up of rust. Remember to wait a good 24 hours before using the weights. 
Painting the Weights
This is also entirely optional, but if you're looking to make your weight plates shine just that little more, you may choose to add a coat of paint for some extra colour. Rust-oleum has a selection of primers and paints you can use for metal plates. Again, remember to give your plates adequate time to dry before putting them to use. 
Once you've done all this, your weight plates should be safe to use and look as good as new!