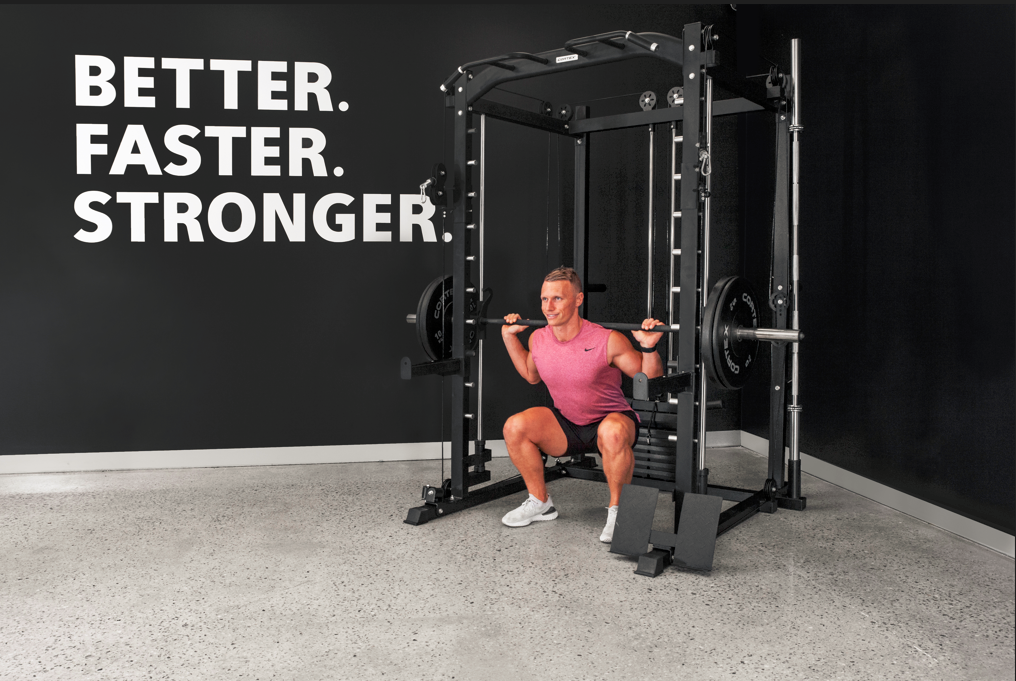 A distinction that might be foreign to you if you're just getting into cable machines is between a weight stack or weight-plate loaded machine. At face value these two types may seem pretty much the same. However, which one you choose can actually have pretty important consequences for your workout and what can be done with your machine.  
So what exactly is the difference between them? A plate loaded cable crossover machine allows you to load on your own conventional weight plates, while weight stack machines have weights that are tied to the machine itself and can't be changed out. Here are some of the key considerations of these machines to keep in mind when purchasing one.  
Weight Capacity 
Weight plate machines generally have a higher weight capacity. CORTEX has plate loaded machines that will go up to about 200kg in weight capacity. Weight stack machines, on the other hand, have a maximum load that is generally lower than a weight plate loaded machine. CORTEX's maximum for weight stack machines is the FT40, which goes to 180kg, however it's possible to purchase an additional 25kg for select cable machines. This may not be a big issue if you're just starting out in weight-training, as you can usually find a good selection of weights on weight stack setups. However, for more experienced trainers, a weight plate loaded machine will give you access to a larger range, and will be beneficial for accelerating your strength training to those advanced levels. 
User-Friendly
Weight stack machines tend to be more user friendly, as they allow you to quickly change between different weights without having to leave the machine, and don't require you to have separate storage and space for your weight plates. Weight stack machines are usually operated by sliding a pin into pre-set weights. This makes them a great option for beginners, especially if they're just starting out in weight training. Weight stack machines offer more of an all-in-one experience whereas plate loaded machines are designed to fit into an existing setup. Plate loaded machines are limited by what you have available, so you'll need to invest a lot more into an extensive weight plate set to get a full range of options. There's also added difficulty if you wish to change weights mid-workout, as it requires more time to slide plates off or on, adding up to extra time spent on your workouts. Plate-loaded is perhaps more suited to users who are setting up a more comprehensive home gym. It may suit a home personal trainer to be able to swap out weights while their client is using the machine, while weight stacks will benefit those who wish to save space and have a less fiddly workout experience.  
Maintenance
As plate-loaded machines are comparatively simpler by design, they won't require as much maintenance and care throughout their lives. Weight stack machines not only have more moving parts but tend to be more intricate in their structure. This means that they require more attention to clean and maintain. When something mechanical goes wrong with a weight stack machine or it stops working, it can be more difficult to figure out exactly what's wrong and how to fix it.  
Price
Weight plate loaded cable machines are a comparatively cheap cable crossover machine, and more economical as the plates you use can also be used for other purposes, making them a better investment for your home gym. However, the combined price of the machine plus all the weight plates will end up being more expensive than an individual weight stack machine. If you're someone who already has a good selection of weight plates, the weight plate loaded machine will allow you save money by re-using your weights, as well as getting greater use out of the equipment you already have.  
Safety
CORTEX cable machines feature a tubular steel frame that secure the weights. This provides high durability and weight capacity, as well as black powder coating and a chrome finish to protect parts against corrosion and scratching. Plate loaded machines, while being perfectly safe during use, can create problems when frequently lifting weights on and off. This creates an increased risk of dropping the weights, or generally mishandling them.  
Conclusion
Both weight stack and weight plate loaded machines are amazing tools for accelerating your personal fitness and provide access to a more comprehensive strength workout than conventional free weights. However, it's best to consider your workout space and your own fitness goals to find a machine that works best for you. You may also consider hybrid machines such as the SM-20 Smith Machine which features both a weight stack and weight-plate loaded component, allowing you to fine tune your workout to your precise needs. 
Speak to our friendly staff today to help you along your fitness journey.