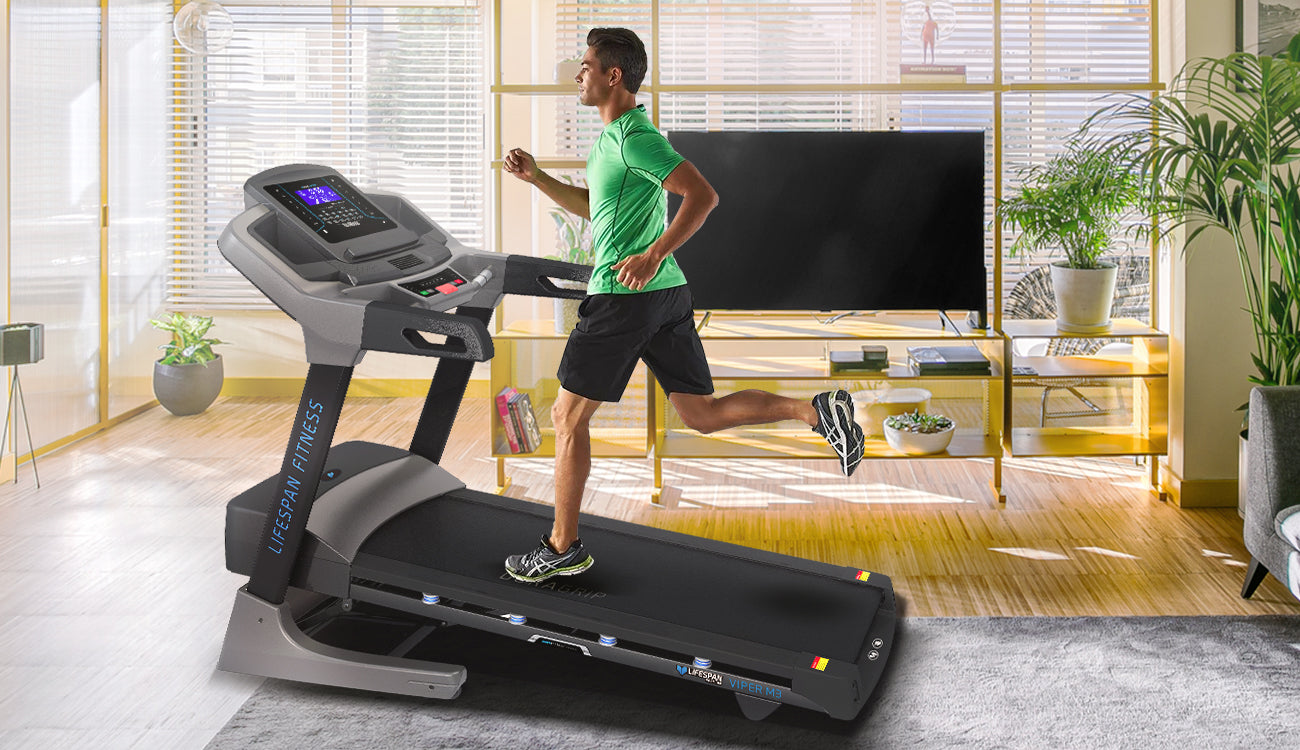 There's a good reason why incline is becoming a regular staple of so many treadmill machines. They are almost universally beneficial to users of all fitness levels and categories, and allow you a greater amount of choice and variation when putting together your treadmill workout. However, with that extra choice and customisation, may come some hesitancy about choosing the "right" incline level for your situation. It's true that different incline levels will create different effects. As such, it's worth being aware of what's happening to your body at each level so you can make the best choice for your workout.  
Treadmill benefits 
There are many benefits of regular treadmill use that most of us are aware of, but what's so special about an incline? Firstly, an incline treadmill workout will naturally raise your heart rate, meaning you won't have to increase speed for a higher cardio burn. Incline treadmill walking will still get your heart pumping, reducing the need to always have to incorporate high-speed running into your exercise regime. This will be useful for many users who may struggle with higher speeds, but still want to improve their cardiovascular health, and creates less of an impact in your workout. This also makes them useful for reducing impact on the joints, as high speeds can often lead to excess muscle tension in the knees and hips. However, it's also worth pointing out that a high incline may not be ideal for those with lower back pain, and are encouraged to work their way up the levels in a gradual scale.  
Incorporating an incline into your treadmill workout helps to condition your body for a realistic terrain. Your day-to-day life will commonly involve walking uphill or on a slight incline, so training for incline is important for developing functional strength, especially in the legs.  
This will also lead to a workout with a higher calorie burn, as the extra work will naturally create a higher energy expenditure. While treadmill workouts are already a great exercise for losing weight, being the go-to fat burning workout for many users, introducing an incline will make the most out of the workout and maximise the number of calories expended.   
Potential Risks 
So those are the benefits of an incline, but are there any downsides to be aware of? Luckily, there are very few risks associated with incline. However, as with most exercises, it's important to understand your fitness level so you don't push yourself too far. Working your way up the incline levels should be a gradual progression, with the higher inclines only being used once you're fully comfortable with both your treadmill technique and the lower inclines. While there is some risk of inflammation in the knees when raising the incline over 3% (around level 4-5 of Lifespan Fitness' treadmills), a small incline is actually better for your joints than a completely flat surface.  
What level is right for you? 
Choosing a level will very much depend on your fitness goals and what you're trying to get out of your treadmill workout. Remember that the benefits of incline will be very much dependent on where you are in your fitness level. Height and body shape will also play a role in choosing the right level, so make sure to modulate any general advice to your situation and adjust accordingly. However, for most workouts, it's good to aim for an incline that's towards the top of your ability level, ensuring you're getting the most out of your workout. As you improve, you will notice that you won't get the same amount of resistance from an incline, which is a sign that can comfortably move to a higher level. 
Functional Training 
A relatively steep incline is probably most useful for those who are looking at developing functional strength in the legs. Studies published by Gait & Posture found that walking at a 9% incline (around level 18-20 on Lifespan Fitness' Treadmills) increased muscle activation in the calves by 175%, as well as 635% in the quads, and 345% in the glutes.  
For this type of training, try going for an incline level of around 8-10, and progressing higher as you feel comfortable (if your machine has more levels) For marathon training, you can make use of the incline options to change between different levels. This will provide you with a fully comprehensive workout, training your body to be able to adjust to different conditions. 
Weight Loss 
If your goal is to lose weight, you may not need a very steep incline, as treadmills are already a highly effective weight-loss tool. A small incline of around 3-5 will be plenty, but you may choose to go higher if you need greater resistance.  
Cardio Training 
As mentioned earlier, the great thing about incline is that you won't need to accelerate to as high a speed to get your heart pumping, which helps to reduce the impact of your workout. However, it's still wise to remain at the lower levels if you're looking to improve your cardiovascular health, as you still want to be able to maintain a solid speed. An incline of around 2-4 should be enough to get the blood pumping and improving your heart health.  
Conclusion 
An incline is one of the best ways to immediately accelerate your treadmill workout. Not only does it amplify the benefits of a treadmill, but delivers additional advantages such as functional strength training and toning muscle.  
Ultimately, even introducing a small incline will be highly beneficial, and is recommended for just about any user. Most of Lifespan Fitness' treadmill will come with an incline, so there are plenty of options to suit your needs.  
If you're just getting started with treadmill, check out our guide to correct treadmill use to get you off and running! 
As always, if you have any further questions about treadmill incline, don't hesitate to reach out to our friendly team and we'll help you along your fitness journey.