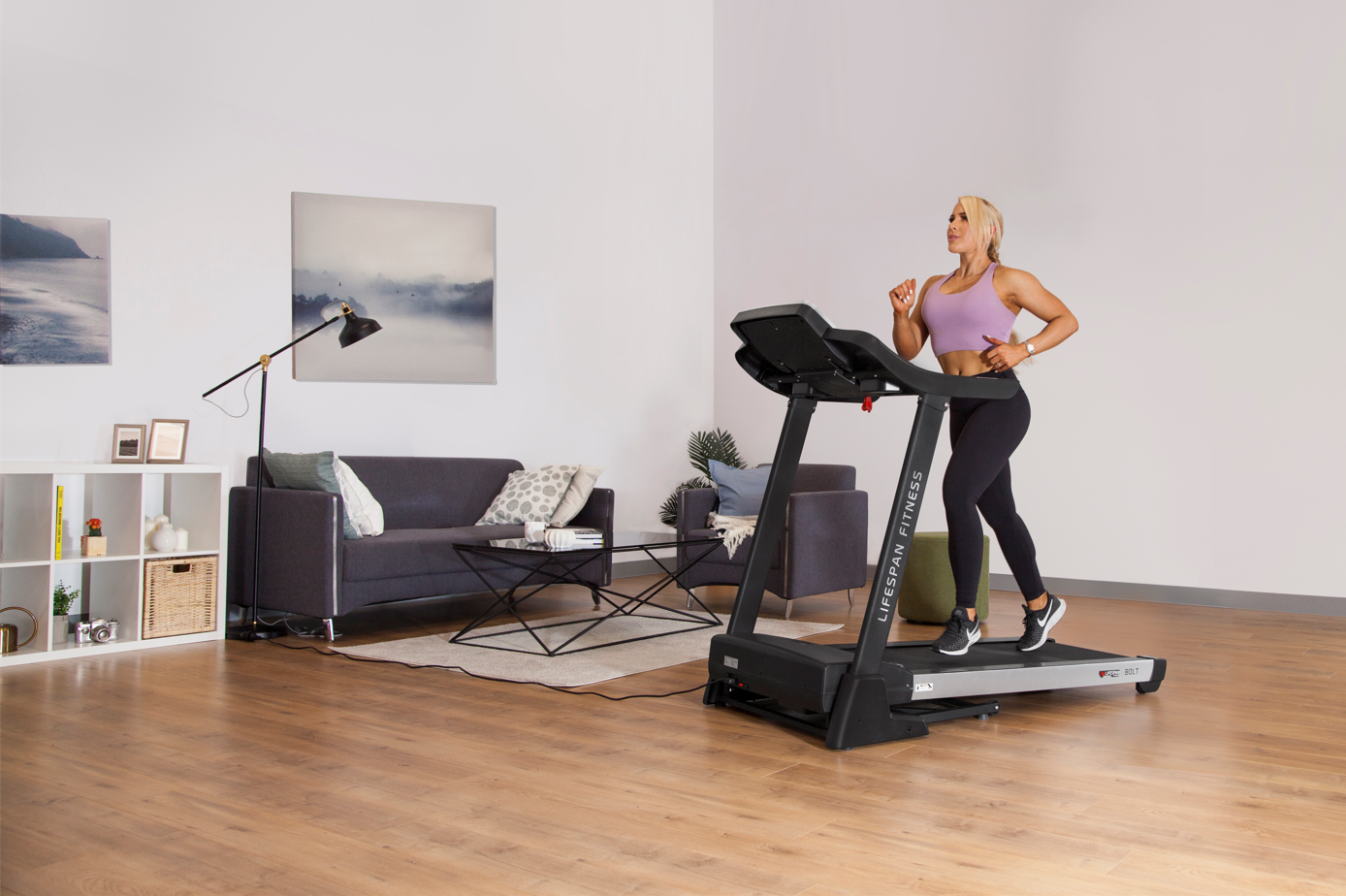 Hopping onto a treadmill for the first time can be a daunting experience especially if it's your first time using a fitness machine. When using any motorised machine, taking safety precautions and understanding how to operate the equipment is paramount to keeping you safe during your walk or run. Even those with experience using a treadmill may not be fully aware of all the functions available to you on a home treadmill. These functions allow you to mix up your workout, and set target achievements based off your fitness goals. Getting familiar with your treadmill will increase your confidence and help you find more enjoyment out of your walk or run.  
Starting Your Workout
Before reaching for the ON button it is best to get prepared for the duration of the workout by popping your water bottle in the holder, having a towel handy and setting up any devices you want to use during your run such as a mobile or tablet. Wearing a pair of running shoes is essential to providing you with the right comfort and support during your run. For first-timers it is recommended to attach the safety key to your shirt while you run. This tag will stop the machine if you fall too far back on the running belt or fall off the machine. Most machines will have a quick start button to turn on the machine. There are two ways to turn off the machine, pressing the stop button on the console will give you a gradual, slow stop. Otherwise, the emergency stop gives you a sudden, almost instant stop. The safest way to start the treadmill is with your feet on the running belt and hands on the rails. Advanced runners may first adjust the speed while standing on the sides of the treadmill then lower themselves onto the running belt using the handles to steady themselves.  
During Treadmill Use
Now you're moving on your treadmill and everything is going well! Next step is to check your posture and position yourself in the centre of the belt. Walking too close to the front could cause your shoes to hit the front of the machine and too far backwards can put you at risk of falling off. Maintaining correct posture and running form will protect you from injury. Remember to keep your back straight and gaze forward.  
Once you've nailed this part, you're ready to experiment with the speed and incline adjustments. Speed can be increased or decreased via the up and down buttons or pre-set levels on the display. Most treadmills will also have these buttons on the handles. Making speed or incline adjustments should always be done in increments when you're starting off. Get comfortable with the movement before progressing to interval training. It is recommended to start each workout at a low speed for around 5 minutes to warm up. A cool down at the end of your workout is also beneficial in reducing your heart rate after an intensive workout and improving recovery.  
Find out more on the recommended walking and running speed on a treadmill here. 
Pre-set programs are also standard to most treadmills, these programs automatically adjust the speed and incline to set levels, leaving you focused on running. Inputting your age, weight and height will allow you to receive more accurate data on your progress. Workout metrics are available on your treadmill display; time, average speed, distance, calories burned and pulse can be tracked while you run. The metal panel on your treadmill handles monitors and records your heart rate throughout your workout. Holding onto the hand panel will give you a rough idea of your heart rate, however a heart rate belt will give a more accurate reading. Keeping entertained while on the treadmill is likely to keep you running or walking for longer. Standard treadmills will have in-built speakers, a tablet holder, AUX and USB Input. Advanced models will also offer, Bluetooth connectivity, Wi-Fi, fitness app compatibility and media apps such as Youtube, Spotify, Facebook etc.  
How to properly store your treadmill
Most treadmills intended for home use will have folding capabilities. Lifting the treadmill platform allows your treadmill to be stored upright and can be placed against a wall or slotted into tight spaces. Most Lifespan Fitness treadmills are equipped with a soft drop folding mechanism and transport wheels making it easy to fold and move your machine. Some walking pads and home office treadmills are designed with a foldable base and handlebars, allowing you to store your treadmill under the bed or sofa.  
Treadmills should be stored inside to protect your machine from the weather and other outdoor elements that can cause potential harm to your treadmill. A treadmill cover will work well to protect the exterior from any scratches or dust build up, this is recommended if you are storing the treadmill in the garage. 
Treadmill Terminology Explained
Speed
This will be displayed as kilometres (kmph) on the display screen. Beginner treadmills will go to a maximum speed of 14km/h to 16/km/h. Walking pads will have a lower max speed at 6km/h to 10km/h. Advanced or commercial treadmills will reach speeds up to 20km/h. If you are after unlimited speed, our FreeRun curved treadmills are the best choice.  
Find out more on the differences between a FreeRun manual treadmill and automatic treadmill here. 
Incline
Adjusting your treadmills incline will mimic the gradient of a hill. Up to 20 automatic levels is available on advanced models. Beginner treadmills will have no incline or a low level of incline that will need to be adjusted manually. Running or walking on a level 1 incline imitates the air resistance you get when running outdoors. 
Running Belt
This is the platform you walk or run on while using the treadmill. Lifespan Fitness treadmills have DuraGrip running belts with anti-static properties. Shock cushioning control systems are also integrated into the running platform, designed to absorb shock while you run. 
Fitness App
Advanced treadmill models are compatible with fitness apps such as Zwift, FitLink and Kinomap. These interactive programs allow you to play interactive games, follow along with coaching videos and store your workout data on your phone.  
Conclusion
Treadmills have many features that at first can seem overwhelming for a beginner. However, the first step is getting started. This guide will help you familiarise yourself with all the components of your treadmill so you can feel as confident as possible during your workout. It is always important to take precaution while using a piece of fitness equipment, taking advantage of the safety features on a treadmill such as the safety clip will reduce your risk of injury.