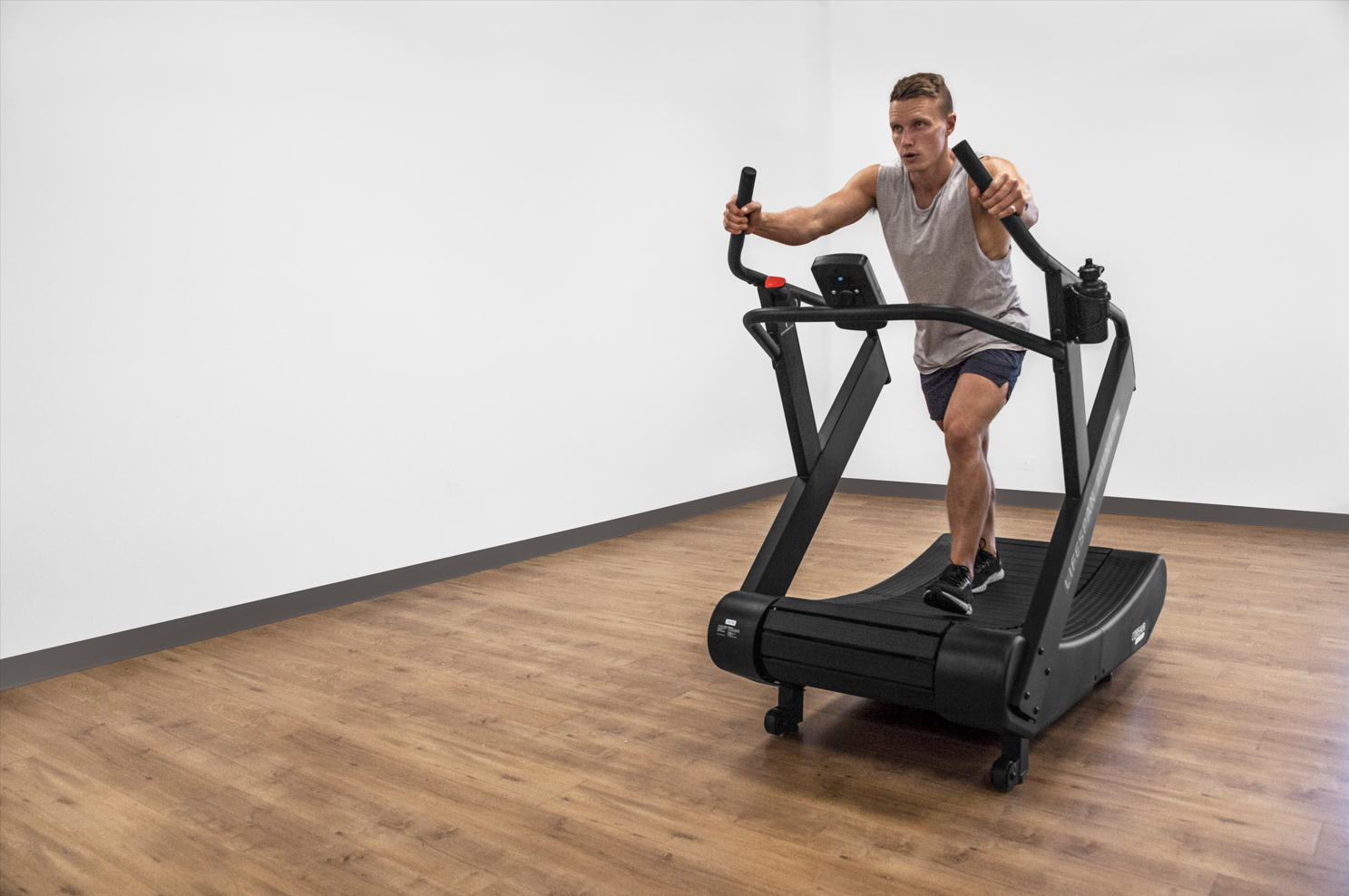 What separates a commercial treadmill from a standard one is a range of factors, including its durability, its larger frame and the ability to handle a greater amount of stress in intense workouts. Commercial treadmills are designed for frequent, high-intensity usage and are built to last much longer than a regular treadmill. Below are some important technical features that make a treadmill 'commercial grade.'  
Frame
The frame of a commercial treadmill will usually be much larger and a lot heavier. This heavy-duty frame creates a sturdy base for your workout, and gives the user the comfort of being able to accelerate their workout without having to worry about shaking or knocking over any part of the machine. This also means that commercial treadmills are not really designed to be moved around often, and don't usually have wheels. 
Smart Treadmill
While not exclusive to commercial machines, electric commercial treadmills will most likely feature many more smart features than a standard treadmill. This includes expanded app connectivity and Bluetooth for both fitness metric tracking and playing your own media through the treadmill. A larger screen with touch controls and media playback, as well as built in speakers to provide the user with all the entertainment options they could want.   
Weight Capacity
Commercial treadmills provide greater stability and capacity for higher weight. This is due to the quality of materials, the power of the motor and the sturdiness of the frame, with most having a maximum load of around 170kg. Always check the product information of your machine to be sure of the specific load limit, as going over can seriously damage your treadmill and can be unsafe for the user. 
Running Belt
The running belt of a commercial treadmill is usually much wider and longer than a standard one. This accommodates more intense workouts and provides additional comfort and security as your workout accelerates. It will also be made of more durable materials, with Lifespan's commercial treadmills featuring a DuraGrip belt that increases grip, as well as having anti-static qualities and additional noise reduction. They also feature advanced ShockControl cushioning to provide extra support for your joints, ankle and feet. The Corsair FreeRun treadmills will also be fitted with commercially graded slats with a rubber surface and steel base for durability and grip. 
Motor
There are a few things that separate the motor of a commercial machine from a standard one. Commercial treadmills will come with an AC (Alternating Current) motor, which is built for non-stop, continuous use. It features a large thermal heatsink design and silent cooling fan for active temperature management, as well as an induction motor design to reduce the need for carbon brushes. This contrasts to the DC (Direct Current) motors found in standard treadmills, which are comparatively cheaper, consume less power, and can only be used for about 4-6 hours. These motors will also use carbon brushes which will need to be replaced every 2 years. The CHP (Continuous Horse Power) of your machine will also influence its ability to handle longer and more frequent usage, as well as being able to take on a greater amount of weight. Standard treadmills with a lower CHP may struggle to maintain speed and consistency when loaded with higher weight, and increases the chances of mechanical issues. Standard treadmill motors usually have a 1 to 2.75 CHP motor, while 4.0 and above is considered full commercial grade. A commercial grade motor also reduces noise and vibration, creating less distractions for your workout. They have also more advanced temperature management systems, reducing the risk of technical problems and allowing the machine to run for longer. 
Usage
Commercial treadmills are built to run for several hours a day by multiple people. They are designed to withstand continuous and intense usage with very little downtime. This will be important for personal trainers or other advanced users who need the assurance that their machine can be used by multiple users for long periods of time, and on a frequent basis. It will also provide an added peace of mind around accelerating an exercise or routine without having to worry about wearing out your machine.  
FreeRun Treadmills
An option when it comes to commercial treadmills is whether or not to go with a curved FreeRun treadmill. These are an alternative to the standard electric treadmill, and there are a few key differences between them. Unlike motorised treadmills, a FreeRun commercial curved treadmill has no electric motor and requires no main power. Instead of a motorised belt automatically rotating under your feet, a curved treadmill is set in motion manually by your feet and muscles. This many benefits over a motorised treadmill, including greater energy expenditure, improving your posture, and creating greater engagement in your core and legs for an extra workout.  
For a more comprehensive breakdown of the differences between motorised and manual treadmills, click here.  
Conclusion
A high-quality commercial treadmill is an unmatchable fitness tool to accelerate your fitness regardless of your personal fitness goals, experience level of workout regime. You'll be rest assured you're getting the best quality treadmill workout, as well as having the peace of mind that your machine will last for years to come.  
If you have any question, don't hesitate to reach out to our friendly team and we'll help you along your fitness journey.