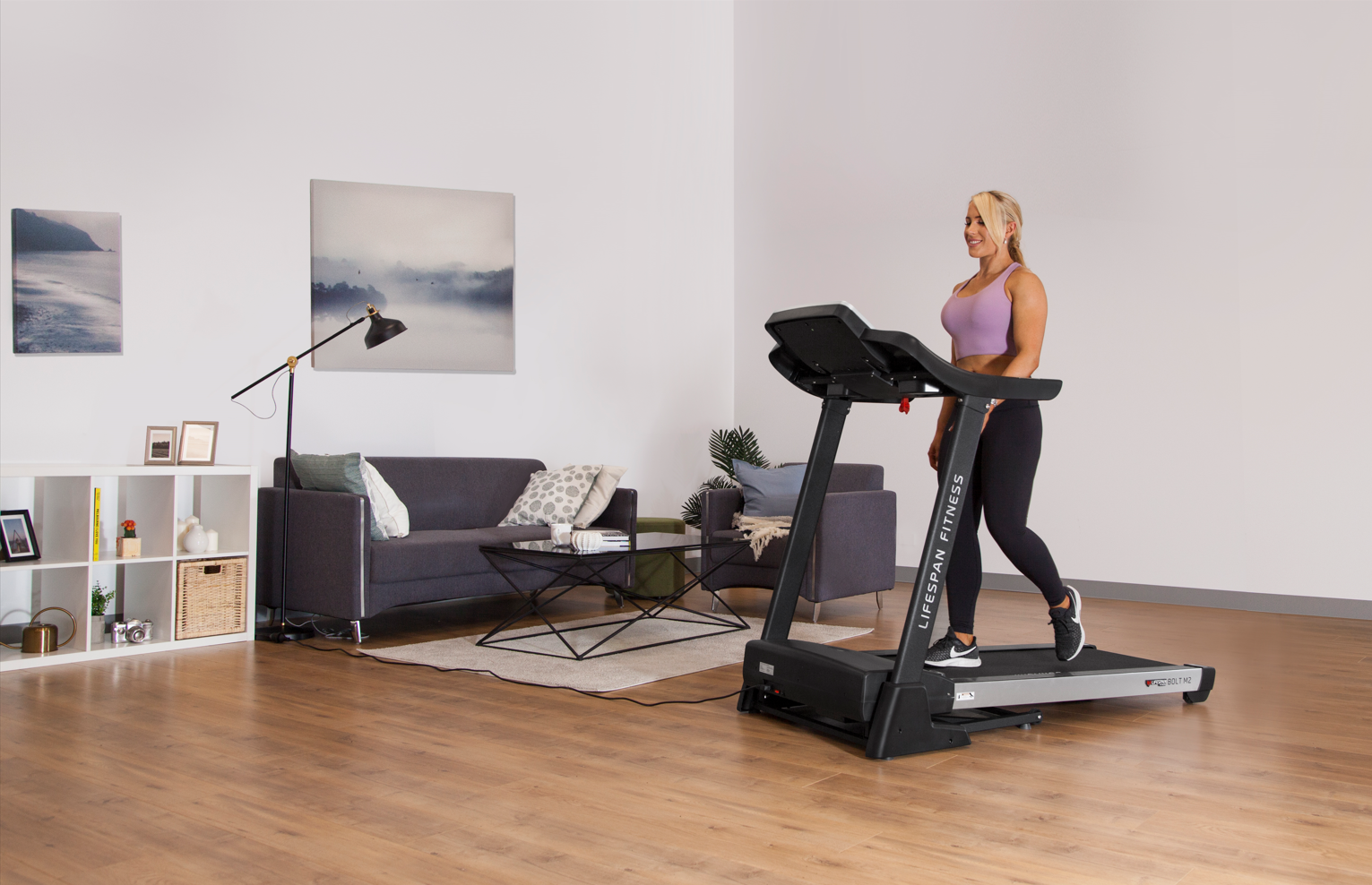 When it comes to treadmills, there are certainly plenty of options for different types of users. This is great for those looking for options for their home fitness setup, but can also be daunting to figure out which will be right for you. An important distinction to understand is that between commercial treadmills and home treadmills. There are many important differences between these two, ranging from material, build, functionality and quality. The Lifespan Fitness selection of commercial treadmills will include the Corsair FreeRun series and smart treadmills, while our home treadmill range will include a selection of walking pads, folding treadmills and rehab treadmills. Here we'll cover some key considerations you should have in mind when deciding which will be right for you. 
Size & Weight
An important issue to consider when deciding whether to go with a commercial or standard treadmill is the weight of the machine. Commercial machines will be much heavier than a standard one, and are generally not designed to be moved around too much. This may be an issue for many users as it means a commercial treadmill locks you into a single location, which may not be practical for some home-gym setups. There is much more variation in size and weight when it comes to standard treadmills, giving you greater choice for something that will suit your workout space, as well as the option to move things around, or fit one in your car. Commercial treadmills are also less likely to come with wheels or have the ability to fold or store away. However, the extra size and weight of a commercial machine may appeal to many users for the stability it provides. A heavier frame will give the user peace of mind to accelerate their workout without having to worry about shaking or knocking over the machine. Consider whether portability is an important issue for you, or whether you'd prefer something that will remain secure in a specific location.  
Running Belt
One of the most visible differences will be the size of the running belt between standard and commercial treadmills. Commercial machines will usually be much longer and wider than a standard one. This is to accommodate more intense workouts and a wider/longer stride. This not only gives you freedom to accelerate the intensity of your workout, but provides an additional comfort and security that extra space creates. The running belt itself will also be made of higher quality materials with DuraGrip and ShockControl for extra comfort, grip and protection for your joints. However, standard home treadmills will usually also come with DuraGrip and ShockControl technology. The Corsair FreeRun treadmills will also feature commercially graded slats with a rubber surface and steel base for durability and grip. 
FreeRun Treadmill
An option when it comes to commercial treadmills is whether or not to go with a curved FreeRun treadmill. These are an alternative to the standard electric treadmill, and there is a few key differences between them. Unlike motorised treadmills, a FreeRun commercial curved treadmill has no electric motor and requires no main power. Instead of a motorised belt automatically rotating under your feet, a curved treadmill is set in motion manually by your feet and muscles. This has many benefits over a motorised treadmill, including greater energy expenditure, improving your posture, and creating greater engagement in your core and legs for an extra workout.  
Long Lasting
Commercial treadmills are built for long, continuous use by multiple users, perfect for a personal trainer who requires a higher level of usage out of a machine. As a general rule, manual treadmills, such as the Corsair FreeRun range of curved treadmills, will last the longest. The lack of an electric motor in these treadmills reduces the need for maintenance, and will be less likely to have complex mechanical problems in need of professional servicing. These have a life cycle of around 8-10 years, while a commercial motorised treadmill will be closer to 5-8 years. Any treadmill you purchase will come with instructions on maintenance and cleaning, and it's advisable to adhere to these to prolong the life of your machine. This will involve applying treadmill lubricant every 1-3 months, aligning the belt if it becomes uncentred, and replacing the motor brushes every 2 years. Find accessories to assist in the maintenance of your machine here.   
Motor
An important thing to look for in an electric treadmill is the type of motor it uses. Commercial treadmills will feature an AC motor, which has greater capabilities for long, continuous use without overheating. Standard treadmills will feature a DC motor, which is cheaper, quieter, consumes less power and can only run for about 4-6 hours. This type of motor also uses carbon brushes, which need to be replaced every 2 years, while AC motors have an induction motor design that removes the need for carbon brushes. The CHP (Continuous Horse Power) of your machine will also differ between standard and commercial treadmills, and refers to the power of the motor during steady operation. This will influence its ability to handle longer and more frequent usage, as well as being able to take on a greater amount of weight. Commercial motors will have a higher CHP rating than standard ones, with standard treadmill motors using a 1 to 2.75 CHP motor, while 4.0 and above is considered full commercial grade. A commercial grade motor will also reduce noise, as it won't have to work as hard to reach higher speeds. The high torque that this type of motor provides will lead to a smoother ride, allowing the belt to continuously run without interruption.  
Walking Pads
Home treadmills will include a selection of walking pads, which usually feature just a stand-alone running belt with a much slimmer frame. The frame will be made of a light aluminium, as opposed to the tubular steel used in other standard treadmills, and may or may not come with a small, foldable handle. There is also no console, but come with a handy LCD display. These are a terrific option for those wanting optimal portability and manoeuvrability. Not only do they fit neatly into just about any space, but are also easily foldable and compactible for either convenient storage or transportability.  
Conclusion
Treadmills are one of the absolute best tools to accelerate your personal fitness level in a way that's comfortable, enjoyable and efficient. You're spoiled for choice when it comes to variety, so make sure to take the time to figure out which will be the right option for you. If you're unsure, don't hesitate to get in touch with our friendly team today to get you going on your fitness journey.