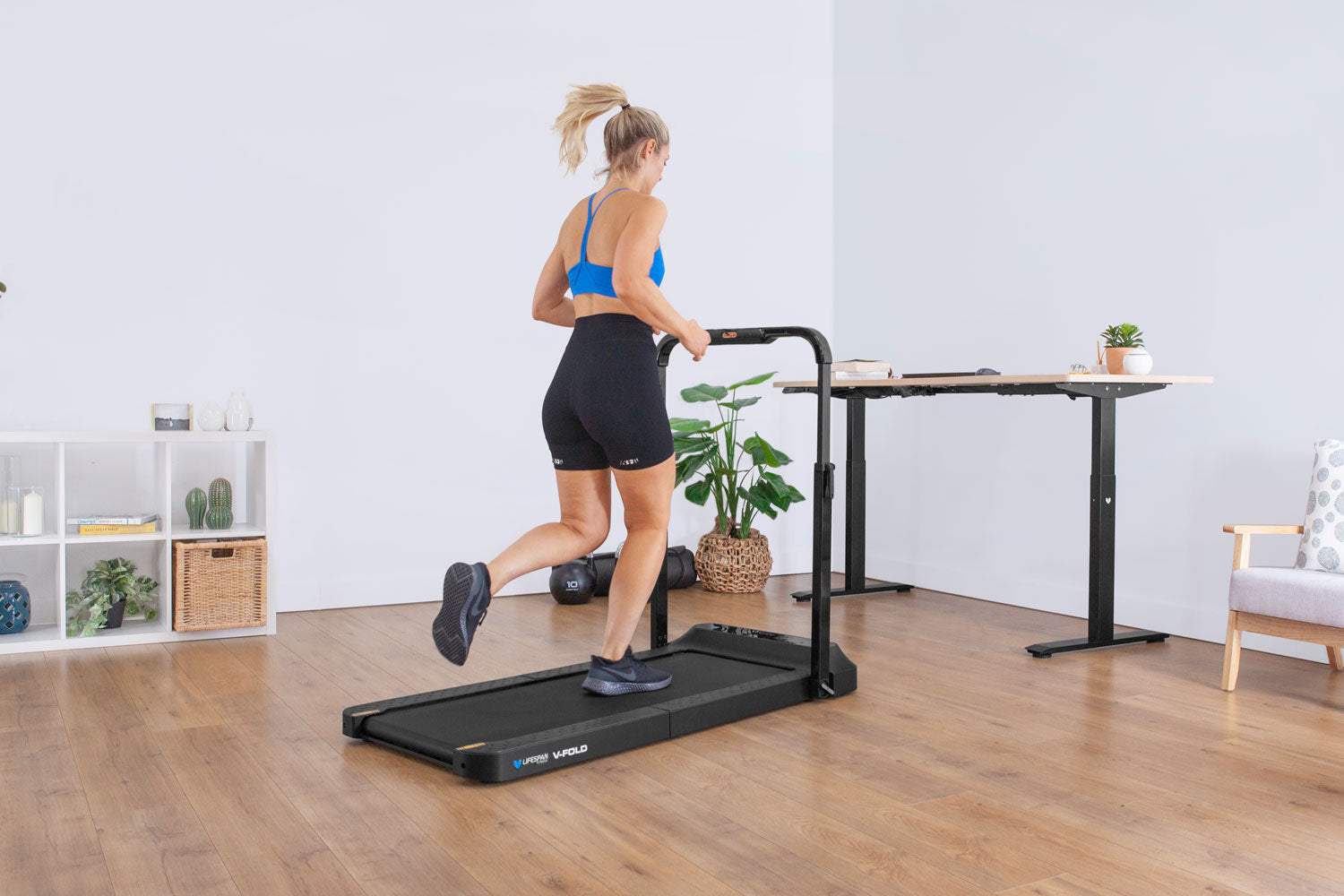 Finding the best small treadmill to fit your space and lifestyle can be challenging. With so many options available, we have come up with a list of our favourite compact treadmills which will accommodate small spaces. Many of the following treadmills are portable and can be conveniently tucked away when not in use. Let's help you choose the best small size treadmill to fit your home.
What makes the Best Small Treadmill?
When picking out these compact treadmills, we examined a few criteria: the overall design, functionality, and portability. The design of the treadmill should be small, but it should also be good quality. In terms of functionality, the treadmill should be able to monitor key information and offer adjustable speeds. Portability is also important, as it provides greater storage options for those with small spaces.
Best Small Treadmill Overall – Boost-R Treadmill
Our pick for the best small sized treadmill is the Boost-R treadmill. This high-performance machine is a feature rich treadmill that provides everything you would want in a small package. With 18 levels of automatic incline and speeds of up to 18km/h, the Boost-R accommodates users of all skill levels. Hydra Assist technology provides a simple way to fold up the treadmill when not in use, allowing you to conveniently store it away to save space.
Best Small Treadmill for Seniors – Reformer Treadmill
The Reformer treadmill is an excellent small treadmill for seniors who wish to stay active in the comfort of their own home. In addition to being compact, the Reformer is specifically designed with accessibility in mind with the added hand rails. These rails are ideal for elderly users and those who need that extra bit of support to star active. Although the Reformer cannot be folded up, the relatively small footprint helps it take up minimal space.
Best Small Compact Treadmill – V-Fold
The V-Fold Treadmill with Smartstride is the ideal choice if you need a small compact treadmill. With speeds of up to 12km/h and adaptive speed control, you can tune the workout to fit your needs. The V-Fold is also 60% thinner than standard treadmills, making it incredibly small and portable. As the name suggests, the V-Fold can fold up 180 degrees when not in use, allowing you to store it away under the bed, sofa or any other narrow space. This makes the V-Fold the perfect workout solution for those who are short on space.
Best Small Treadmill for Apartment - Walking Pad M2
If you want a small treadmill for your apartment, the Walking Pad M2 is the best choice for you. The Walking Pad reaches speeds of 6km/h and can be conveniently controlled with the included remote. This treadmill is designed to be a comfortable walking platform and its slim body allows it to accommodate even the smallest homes. You can even place the Walking Pad M2 under an elevated desk to turn your home office setup into a walking desk!
Best Cheap Small Treadmill – Pursuit Treadmill
If price is a key factor to you, consider the Pursuit Treadmill – our pick for the best cheap small treadmill. This beginner friendly small treadmill has all the features you will need to achieve your cardio goals while also being relatively affordable. Challenge yourself with 3 levels of incline and a 14km/h max speed. With Hydra Assist and transportation wheels, you can fold up the treadmill and store it away with ease.
Summary
Lifespan Fitness offers plenty of treadmills to accommodate your workout space, no matter the size. If you require further assistance after you've bought your treadmill, check out our guide on how to use a treadmill correctly.