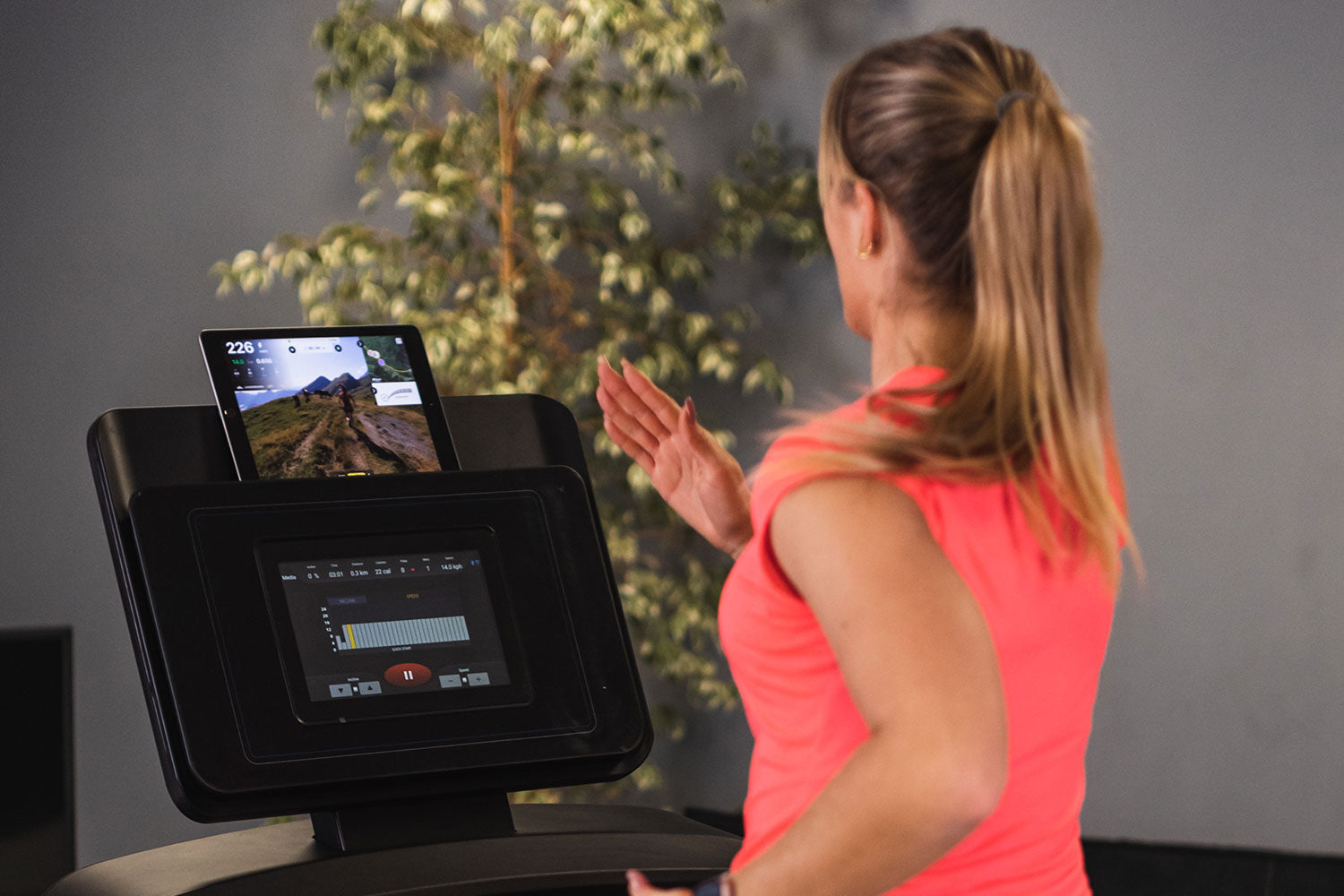 When it comes to treadmills, we've come a long way from a simple running belt, with our smart models becoming fully integrated exercise stations, with complex features and advanced controls. There's never been a better time to get your hands on a good treadmill for the home gym, as numerous smart features and designs provide something for every user, and every workout. Smart treadmills include a broad range of treadmill machines that allow you to personalise your experience, track your progress and get the most out of your workout. These machines take all the convenient, modern features that users have come to expect from the most modern treadmills, and takes them to the next level.  
What is a Smart Treadmill? 
Smart treadmills allow integration to smartphone apps, with some having built-in capabilities to access apps with user-friendly connection setups. This category of treadmill also includes a number of extra features, including adaptive speed controls, pre-programmed workouts, and Bluetooth connectivity. Each treadmill will come with a different selection of smart features, so here we'll run through some of the key advantages of each of them so you can decide on a good fit for your workout.   
Monitor/Display 
It's very common to find a large LCD display on the console of your smart treadmill, which can be used for displaying workout data, as well as media playback with a range of entertainment options. Every treadmill will be different and come with a range of different features. Some have built-in apps on the touch screen, allowing you to operate the extra features without the need for smartphone connection. Others require a smartphone or other device to pair up, and allow for controls to be adjusted from your device. You can choose a machine based on what will work best for your workout, and whether you'd prefer a separate device connection or built-in functions. A treadmill with a smart TV screen will contain a highly responsive touch display, designed for a more efficient user experience and less time fiddling around with controls. Some models will even give you a choice of scenic routes to display on the monitor, immersing you in your run or walk. The screen will usually display workout metric data, including speed, duration, heart rate and calories burned. 
Workout Programs 
Pre-programmed workouts will also be a common feature on many smart machines, making automatic adjustments throughout, including speed, incline and duration. Many smart machines will feature real-world mapping using Kinomap. This allows you to draw your route on a real map and create a workout program based on the distance, incline and other elements of the chosen route. The machine will automatically adjust throughout the program to match the terrain of the real-world track. This creates an immersive experience that goes above and beyond standard workout programs. The fluid experience provided by these comprehensive workout programs ensure a streamlined workout, with a fully automated system that allows you to jump on the treadmill and get going. Our programs are designed by personal trainers, with options to train at different levels and to focus on different areas of fitness. On top of this, many treadmills will include the option to design your own custom program for a personalised experience. On top of this, you also have full control over the incline of the running platform at any time, with many smart treadmills coming with automatic incline functions. Simply choose the incline level to effortlessly shift between gradients, without any interruption to your workout. For more information on choosing an incline level for your workout, click here. 
Workout Metrics 
Recording accurate data and metrics from your workout is an important component of personal fitness, allowing you to track your progress over time, set more precise goals and get a better understanding of your fitness abilities. While traditional treadmills generally provide basic workout data feedback such as distance, time, calories burned and heart rate, smart treadmills offer new and sophisticated ways of storing, tracking and sharing your data across multiple devices. Smart machines allow for compatibility with our dedicated fitness app, where you can track and log each session. They also provide the ability to transfer data to/from other health apps such as Google Fit or Apple Health. Some models will even be compatible with a wireless heart rate monitor, called Heart Rate Control. This involves fitting a strap to your chest, which will sync with your machine and automatically adjust incline and speed so that you're always working out at your target heart rate. Accurate and precise record keeping is an important component to a smart treadmill workout, as traditional treadmills usually wipe off all exercise data once you're done with your workout. Unless you're recording your metrics in some other way, this makes it difficult to get a wholistic view of your athletic ability and progress, especially over long time spans. The ability to log all of your workout history is invaluable for fine tuning your regime, allowing you to more precisely track progress, as well as provide a little extra motivation.   
Adaptive Speed Controls 
One such feature is adaptive speed control, which gives the user the ability to adjust speed in relation to the position on the treadmill. This works by increasing speed when you move to the front of the running belt, slowing down when you move to the back, and staying at a constant speed when you remain in the middle. You'll find this function will become very intuitive after a while, and you'll be able to hop on and off your treadmill throughout the day without much thought or tinkering with settings. Alternatively, you can set the machine to manual mode and control the speed by either a handheld remote, or an app on your phone 
Conclusion 
Smart treadmills cover quite a range of different treadmill sizes and levels, from ultra-compact, home treadmills to professional-grade, commercial machines. Whether you need something that will reduce hassle and fit into your busy schedule, or you're a hardcore trainer looking to level up your workout experience, smart treadmills give you the tools to create your best workout.  
If you have any questions about our range of smart treadmills, feel free to reach out to our team and we'll be happy to assist you in finding the best machine for you. 
If you're new to the world of treadmills, make sure to check out our treadmill usage guide for our tips on starting off right.